Are you wondering what county Big Sky is in? That's a great question and hopefully this post will shed some light on the answer. Big Sky, Montana is split between two counties: Madison County and Gallatin County. The county line runs roughly north-south through the Madison Range. In Big Sky, the county line is located about halfway between the Meadow and the Mountain. If you look closely the next time you're driving up Lone Mountain Trail, you'll notice a sign that welcomes you to Madison County. Another way to think about what county is Big Sky in is to look at the major areas. For example, Big Sky Resort, Yellowstone Club, and Moonlight Basin are located in Madison County while the Meadow, Spanish Peaks Mountain Club, and the Gallatin Canyon are all in Gallatin County. Basically, where you live in Big Sky dictates what county you live in.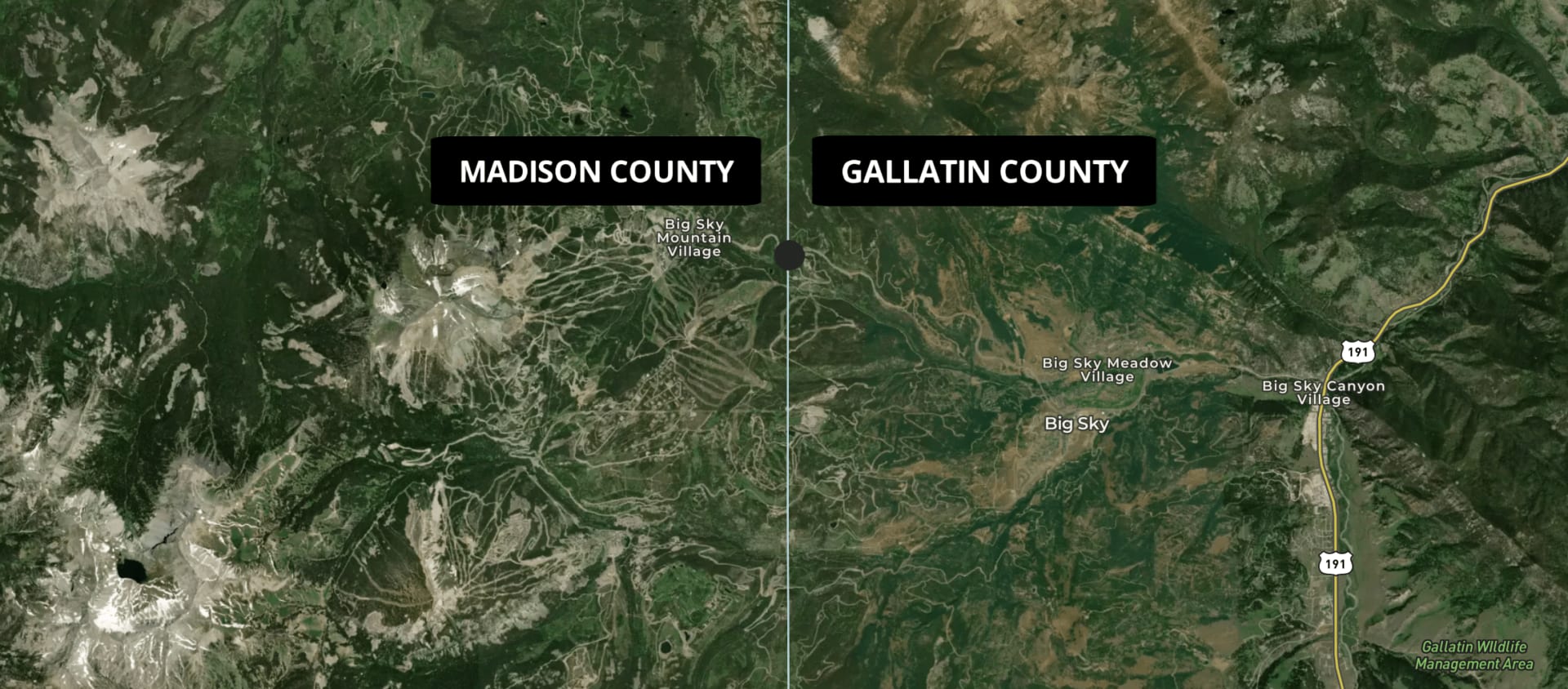 If you want to know exactly what county a specific piece of property lies in, MDT County Maps and Montana Cadastral are excellent resources.
The County seat of Gallatin County is Bozeman and the county seat of Madison County is Virginia City. This means for that for official paperwork, like property closings, the documents must go to the appropriate location. Since the main way to access Big Sky is via Highway 191, Bozeman is much closer. The county you reside in or buy property in may also have an impact on taxes, planning, and other official matters. Big Sky does an excellent job of existing in two counties. Technically, Big Sky is a census designated place (CDP), not an incorporated town. There has long been talk of incorporation and also discussions about forming a new Montana county around the Big Sky area. Both topics come with pros and cons, so I'll let you decide how you feel about these issues. Only time will tell what will happen. When something changes, I'll update you here. Stay tuned! One last thing... Here's a fun way to tell what county people reside in... Take a look at people's Montana license plates. For locals who live in Gallatin County their plates will start with a 6. For people who reside in Madison County, their plates will begin with 25.
---
Below is a map showing approximately where the county line divides Big Sky, Montana into Madison County & Gallatin County: