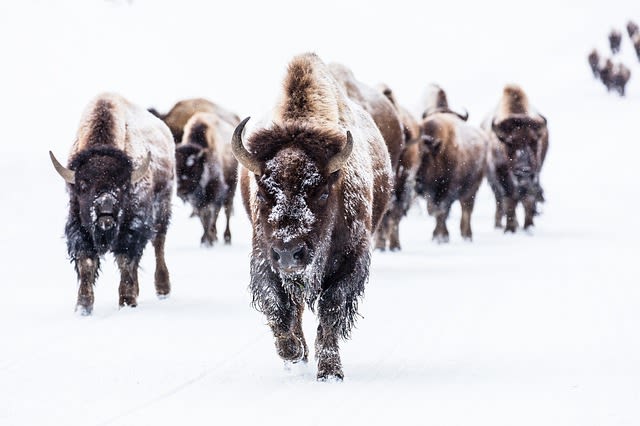 Are you planning a trip to Big Sky, Montana this winter? Well you've picked an incredible vacation destination for both skiers and non-skiers. There are so many winter activities in Big Sky Montana – besides just skiing.
There's no doubt about it, Big Sky is a world-class ski destination. With the abundance of snow and endless mountains, Big Sky is an ideal destination for nordic, alpine, and backcountry skiers. But there's so much more to do in Big Sky than just ski.
Here are 16 fun winter activities in Big Sky Montana besides skiing:
Snowshoeing – Grab a pair of snowshoes and explore the hiking trails in and around Big Sky.

Dog Sledding – Book a dog sledding adventure through the forests of Big Sky Country.

Sleigh Rides – Head to one of the local guest ranches and enjoy a sleigh ride through the picture perfect landscape.

Snowmobiling – Rent a snowmobile, or better yet, hire a guide, to take you on a snowmobile adventure on Buck Ridge or in the Gallatin Range.

Yellowstone National Park – Most people visit Yellowstone in the summer, but a winter trip is definitely something to add to your bucket list. Hop on a snow coach or join a snowmobile tour into the heart of the Park to spot wildlife and enjoy the geologic wonders of YNP.

Ice Skating – Lace up your skates and enjoy a day of ice skating in the heart of Town Center.

Sledding – Big Sky is nestled into the mountains, which means there are plenty of places to enjoy a day of sledding.

Big Sky Resort's Base Camp –

Base Camp at Big Sky Resort offers a wide variety of winter activities. Perhaps the most popular things to do in winter at Big Sky Resort besides skiing is going on the numerous zip lines.

Hot Springs – The Greater Yellowstone Ecosystem is definitely a geological hotspot – and that means hot springs! There are both natural and commercial hot springs in the area. If you're up for a short drive through beautiful country, the hot springs of SW Montana won't disappoint.

Fly Fishing – Most people think of fly fishing as a summer activity, but it's also one of the popular winter activities in Big Sky Montana. Hire a guide and head down to the Gallatin to try winter fly fishing.

Fat Biking – Fat biking is quickly growing in popularity. Rent a fat bike and hit the trails around Big Sky. Or just take one for a cruise around the Meadow. It's super fun!

Live Music – There's no shortage of live music in Big Sky Montana. It's easy to find Big Sky's local musicians putting on a show almost every day of the week. Or if you're here at the right times, you can enjoy shows at WMPAC or festivals like Big Sky Big Grass at Big Sky Resort.

Museums – Most people don't associate Big Sky with museums, but there are quite a few places to visit to learn more about this incredible region. Check out the Earthquake Lake Visitor Center, Grizzly & Wolf Discovery Center, Crail Ranch, the Museum of the Rockies, Gallatin History Museum, or the Children's Museum of Bozeman.

Apres Ski – Everyone enjoys apres ski! Big Sky is home to a lively apres ski scene. Head to your favorite bar after the ski day and enjoy!

Cultural Events – Big Sky offers a plethora of cultural events throughout the winter season. For example, there are concerts, comedy shows, theater productions, artist workshops, festivals, Ted Talks, and more.

Rest & Relax – Sometimes when you're on vacation, all you want to do is kick back and enjoy a slower pace of life. Whether you watch the latest Hollywood blockbuster, dive into a good book, get lost in the mountain scenery, or head to the spa, Big Sky is an ideal place to enjoy your vacation.
As you can see, there are plenty of fun winter activities in Big Sky besides skiing. This SW Montana mountain town is bound to be a hit with skiers and non-skiers alike. Visit Big Sky this winter season, you're going to love it here.