Thinking about relocating to Big Sky, Montana? Moving to a vibrant mountain town tucked into the mountains of SW Montana is definitely exciting. Big Sky is certainly an ideal place to call "home".
Big Sky, Montana is located in the Madison Range of Montana. To access Big Sky, you can drive south from Bozeman or north from West Yellowstone on Highway 191 along the banks of the Gallatin River. Turn west at the stoplight at the junction of 191 and 64 and you're in Big Sky.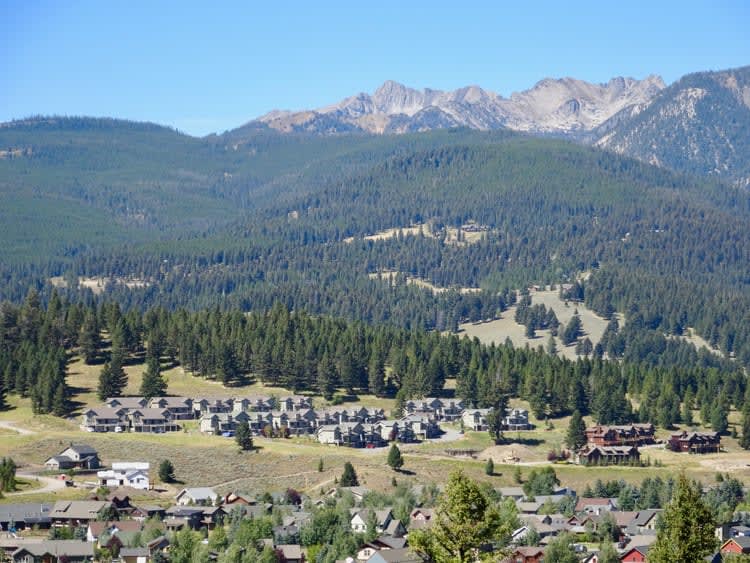 As part of the Greater Yellowstone Ecosystem, Big Sky is a wild place that is surrounded by public lands. The Gallatin National Forest surrounds our mountain town and access into the protected Lee Metcalf Wilderness is available via numerous trailheads. And let's not forget that Yellowstone National Park is just a short drive away. When you live here, your backyard seems like it's endless.
The vast mountain ranges of Big Sky Country are absolutely stunning, the endless outdoor activities appeal to people of all ages, and folks that call Big Sky home are friendly, active, and come from a wide variety of backgrounds.

Big Sky Mountain Village
Relocating to Big Sky is ideal for all sorts of people. It's an attractive option for fly fishermen, skiers & snowboarders, wildlife lovers, nature fans, hikers, bikers, kayakers, golfers, and more. Whether you're young, old, or in the middle, if you're keen to live the mountain lifestyle, Big Sky might be the perfect place for you.
It's easy to see why people want to relocate to Big Sky, Montana, but before you make the move, it's important to learn more about Big Sky.
Big Sky Quick Facts
State: Montana
County: Gallatin & Madison
Zip Code: 59716
Area Code: 406
Population: 2,308 (2010 Census)
Major Mountain Range: Madison Range
Closest River: Gallatin River
Highest Point: Lone Peak @ 11,166'
Discover More Facts About Big Sky
Housing
Big Sky is home to a wide variety of housing options. If you're looking to purchase Big Sky real estate in the Canyon, Meadow, Mountain, Moonlight Basin, Spanish Peaks, or Yellowstone Club, I'm happy to help. As a full-time local real estate broker, I'd be thrilled to show you the current options and to discuss the Big Sky real estate market with you. If you're keen to rent. Of course, if you have any questions about housing in Big Sky let me know.
Employment
Big Sky is a growing mountain town and features numerous job opportunities. The largest employers in Big Sky include Big Sky Resort, Moonlight Basin, Spanish Peaks Mountain Club, & Yellowstone Club. Whether you're looking for jobs in tourism, construction, development, restaurants, healthcare, education, professional, and more - opportunities exist for you. Plus, the ability to work online and/or work from home opens up even more options.
Schools & Daycare
Big Sky is home to the Big Sky School District #72. This K-12 School District is located on Highway 191. Ophir Elementary and Middle School have been open since 1906, while the Lone Peak High School opened in 2009. Morningstar Learning Center provides full-time daycare/preschool in Big Sky. Located in the Meadow, MLC has worked with local families and their children since 2007. Also based in the Meadow is the
Big Sky Discovery Academy
. It was formed in 2014 and is a Montessori-based Pre-K through High School.
Things To Do In Big Sky
Whether you're looking for outdoor activities, arts & culture, or restaurants & retail, there's plenty to do in Big Sky.
Relocating to Big Sky is an exciting decision and I'm sure you have questions about this SW Montana mountain town. I'd love the opportunity to point you in the right direction and welcome you to town. Feel free to use my website as a resource, shoot me an email, or give me a ring. Have a great day!