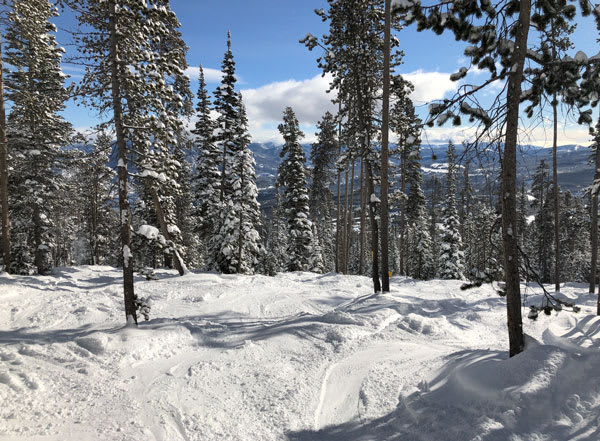 Top 10 Runs For Tree Skiing At Big Sky Resort
Do you love skiing in the trees? Tree skiing is a great way to spend a day on the slopes. Whether you're looking for untracked snow, enhanced visibility, pristine solitude, or just a new adventure, the tree skiing at Big Sky Resort is some of the best around.
Tree skiing isn't for everyone, but if you're a solid skier or rider and you're looking for quality glades, Big Sky is the place to be. There's something magical about finding a hidden stash, flowing through playful terrain, or tapping into an untouched line through the vast forests of Big Sky Resort's 5800 acres of skiable terrain.
Now let's shine the spotlight on our list of the top 10 runs for tree skiing at Big Sky Resort:
Lizette – Blue Run
Congo Line – Blue Run
Whiskey – Blue Run
Blue Room – Black Run
Tango Trees – Black Run
Rams Glade – Black Run
Trapline – Black Run
Double Jack – Black Run
Broken Heart – Black Run
St. Alphonse Trees/Forbidden Forest – Black Run/Blue Run
Bavarian Forest – Black Run
Whoops! We picked 11 tree trails. Guess you get a freebie recommendation. We'll be honest the tree skiing at Big Sky rocks. It's just really hard to pick our favorite ones.
One of the cool things about Big Sky Resort is that they are always cutting new tree runs. When you go tree skiing at Big Sky Resort, the options are endless and always expanding. The above list only highlights a few of our favorite tree runs. It's likely you will have your own favorite tree runs. There are plenty to choose from.
Before you start tree skiing at Big Sky Resort, there are a few things to keep in mind. Try to ski with a partner. Watch out for tree wells. Know where you're going. Look out for unmarked obstacles. As always, ski and ride within your ability limits and stay in control. There are quality tree trails for every ability level, so choose your runs appropriately. Think about slope angles, tree spacing, aspect, and snow quality. Stay safe out there.
Whether you're exploring trees on Andesite, Dakota, Lone Tree, Swift Current, or somewhere else, you're going to have a blast. Go and explore the endless tree skiing at Big Sky. You won't be disappointed.