What Are The Best Intermediate Runs At Big Sky Resort?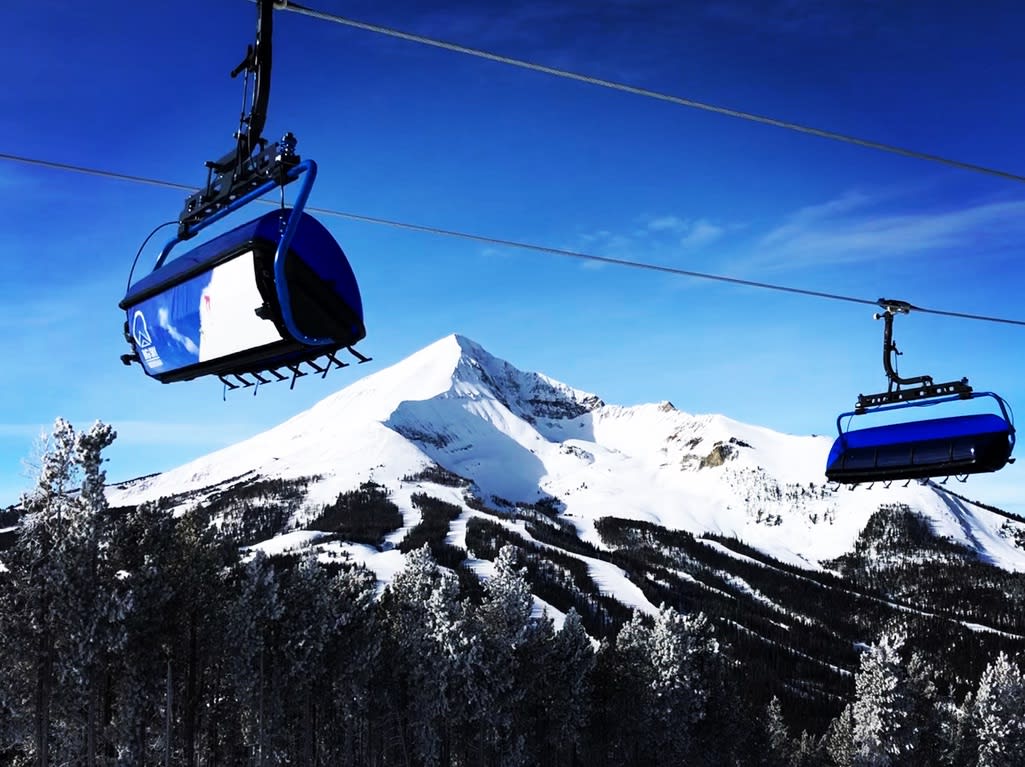 Big Sky Resort is home to the Biggest Skiing In America. And there's no doubt about it, Big Sky is, well, big. As of the 2018/2019 winter season, Big Sky Resort boasts 5,850 skiable acres and 4,350 vertical feet that's serviced by 36 lifts. With 300 named runs on 4 connected mountains and 400+ inches of snow per year, Big Sky Resort offers a lifetime of skiing and riding. One of the coolest things about Big Sky Resort is that it has terrain for any and all abilities. Everyone from a never-ever skier to an extreme rider will have fun at Big Sky Resort. In this post, we're going to look at the best intermediate runs at Big Sky Resort. If you're an intermediate skier or rider, you'll find an endless selection of trees, groomers, bumps, and more that are rated Blue Squares.
Let's start by looking at Big Sky's terrain by the numbers:
Beginner - 15% - 877.5 acres
Intermediate - 25% - 1462.5 acres
Advanced - 42% - 2457 acres
Expert - 18% - 1053 acres
Now take a moment to think about that. There are 1,462.5 acres of intermediate terrain at Big Sky Resort. That's more terrain than some entire ski areas! If you're an intermediate skier, there's more than enough amazing blue terrain to explore at Big Sky Resort.
Now let's take a look at some of the very best intermediate runs at Big Sky Resort:
Calamity Jane - Looking for an early morning cruiser? Calamity Jane is easily accessible from the Swift Current lift in Mountain Village. It's the ideal spot to warm up the legs.
Upper Morningstar - If you're looking for an alpine cruiser, Upper Morningstar is the place to be. Accessed via the Powder Seeker chair, Upper Morningstar flows underneath the A-Z chutes and is definitely a run you can ski over and over again.
Sunlight - Sunlight is a long groomer that's easy to access from the top of Shedhorn. This south facing cruiser allows you to see a different, exciting side of Lone Peak.
Africa - If you're keen to venture into easy moguls, Africa is a fantastic spot to get some practice. This classic blue run is located off of the Ramcharger 8 lift and takes you back to the Mountain Village.
Lizette & Pomp - Located off of Southern Comfort on Andesite, these south facing tree runs are the perfect place to explore the endless low angle glades of Big Sky.
Whiskey - This exciting tree run is accessed from the Lone Tree Quad and is a playful tree trail that takes you all the way back down to the Six Shooter Chair.
Ice House - Located off of Lookout Ridge in Moonlight Basin, Ice House is a rolling cruiser with outstanding views of SW Montana.
Badlands - Tucked into the trees of Dakota, Badlands is a wide open off-piste run that's worth exploring. It's way out there, but well worth it.
Are there other runs that might qualify as the best intermediate runs at Big Sky Resort? Of course. Once you get out and explore, you're bound to have your favorite blue run at Big Sky. Hopefully the above list will point you in the right direction. Are you planning to explore the best intermediate runs at Big Sky Resort? Please do. There's so much fun to be had on this world-class ski resort. And feel free to grab a grooming report from convenient base area locations to ensure you have a blast. Have fun out there!